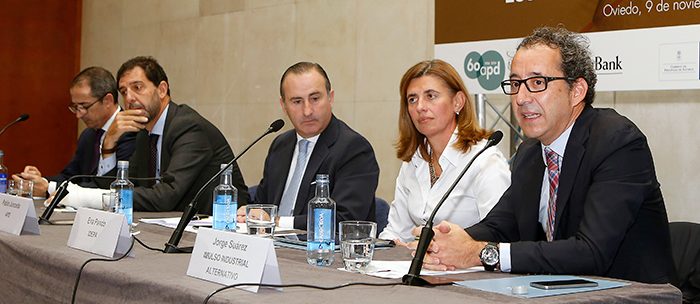 Las empresas tenemos que mejorar nuestra competitividad día a día.
IMPULSO participa en el IV Foro de Competitividad.
"Companies have to improve our competitiveness day by day". This was the message delivered by the CEO of Impulso Industrial Alternativo, S.A., Jorge Suárez, to the entrepreneurs gathered at the 4th Competitiveness Forum "The roads of Competitiveness" organized by the Association for the Progress of Management (APD), which took place on November 9 in Oviedo and was attended, among others, by the vice president of the CEOE, Antonio Garamendi.
The president of APD Asturias, Pablo Junceda, agreed with this message, and said that "to talk about competitiveness is to talk about the survival of companies, it is to talk about many things, about technology, about different jobs, about different international relations".
In his speech, Suárez also highlighted the importance of public funding programs in improving the competitiveness of companies and the recent trend of many companies to create specific public funding departments, to align the strategies of companies with said programs and thus maximize fund raising. IMPULSO has positioned itself as a reference partner for the country's companies in this activity, after more than 25 years of experience and success stories.
The Forum will be an event that cannot be missed by the entrepreneurs of the region as it reflects on the keys to business success, among which are undoubtedly "talent, innovation and internationalization" as highlighted by Eva Pando, the director of the Institute for Economic Development of the Principality of Asturias.